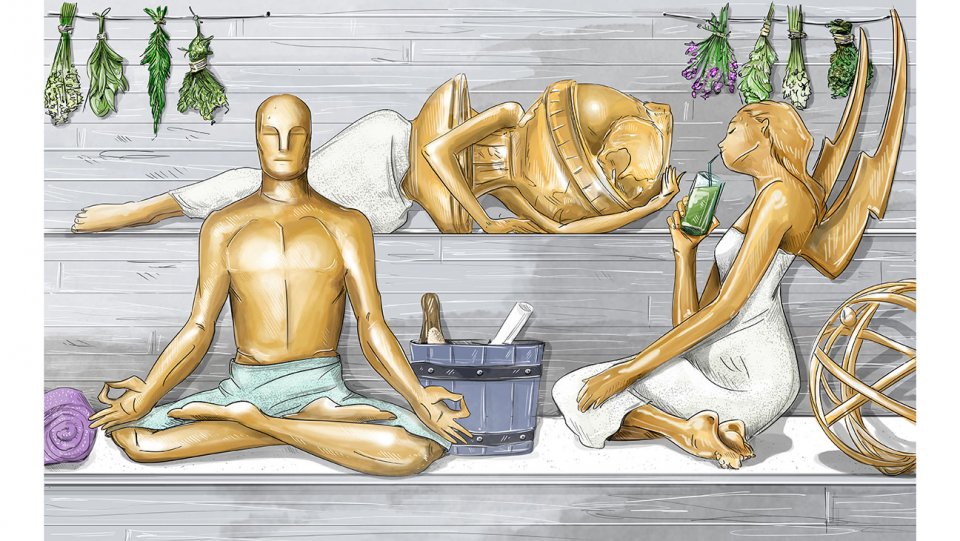 SWEAT LODGES TO ZEN MEDITATION: AN A-TO-Z SURVIVAL GUIDE FOR AWARDS-SEASON STRESS
THR surveyed recent contenders for their secret weapons to easing anxiety of all kinds, including Ayurvedic spas (Gwyneth Paltrow), spiritual healing (Johnny Depp) and SoulCycle (Lady Gaga).
Remember you're there because of your work, and the rest is just the fun bit," says Cate Blanchett about awards-season insanity, adding, "I don't take it too seriously." When you're as decorated as she is (seven Oscar noms, two wins), that might be doable. But for many contenders — plus studio execs, awards strategists, agents and producers — the whirlwind of junkets, ceremonies and parties brings skyrocketing anxiety and exhaustion.
And everyone has his or her own way of coping. Felicity Jones, who hit the circuit in a major way for 2014's The Theory of Everything, battles stress by running and swimming, but admits that as a Brit, she likes "bad teeth and messy hair," meaning less pressure for red-carpet perfection.
Meanwhile, some don't cope at all. "I don't think about it until it's here," says five-time Oscar nominee Amy Adams. "I'm kind of one of those people, and then I kind of regret that I didn't think about it." For those who do want to manage the mania, or just steal some tips from the pros, staff asked awards-season vets for their best (healthy) survival secrets. Newbies at least can take one easy tip from Jones: "Make a few friends along the way — you'll see them at each awards ceremony. Share in it, because that's what makes it fun."
This holistic system of medicine may have roots in ancient India, but some of its biggest devotees are in Hollywood, including Oscar winner Gwyneth Paltrow and Grammy recipient Beck. Both frequent the Pacific Palisades' Surya Spa (SuryaSpa.com), where — after a consultation with an Ayurvedic doctor — guests embark on four-hour treatments ranging from synchronized bodywork to Shirodhara, in which warm oil is poured on the forehead.

"It's calming," says co-owner Roger Soffer. "People come out with more profound rest than they would have if they'd just been asleep or having a deep-tissue massage." A large mirror captures clients' post-treatment glow. Says Soffer, "I remember one [2016 nominee] looking in the mirror, going, 'Oh my God, my skin!' " No wonder the nominee spent seven out of 10 days there prior to the Oscars.

"It's the greatest tool I've ever used," says breath coach Jon Paul Crimi, who counts four-time Emmy nominee Matthew Perry as a client (Crimi teaches at Unplug Meditation; UnplugMeditation.com). "Someone comes to me stressed out before an awards ceremony and it just clears everything out — the fear, self-doubt, negativity."

He refers to his breathing practice, done supine, as "meditation on steroids." He also works with nominees afterward to deal with disappointment. "I've worked with a lot of Oscar winners and often they go into a depression because it's just a statue; it's not going to fix them." Fortunately, he says, breathwork will "completely restart your day. You're a different person when you're done — there's no drug that will do that."

Bonus: The practice can be a game-changer for women used to breathing shallowly to hold their abs in for photos.

It's not all cleansing and juicing. Transparent actress and SAG Award nominee Amy Landecker says she eats "a big, greasy breakfast" before awards shows, because "starving myself makes me cranky, and you need a lot of stamina."

Still, trainer Jason Walsh, who worked with Matt Damon during his best actor bid for The Martian (and has coached Bradley Cooper, Justin Timberlake and Emma Stone), advises restraint. "When you're stressed, you eat more crap. It overwhelms your body." He advises avoiding coffee, alcohol and sugar, which hammer the adrenal glands.

That's seconded by wellness guru Rainbeau Mars, who last season worked with a handful of Emmy nominees, as well as David Duchovny, Rosanna Arquette, Ashley Olsen and Rick Rubin: "Doing a cleanse is great because you flood your body with enzymes and give it a break from junk." Her nominees tend to want an extreme master cleanse to feel lighter quickly, but she recommends just one or two days to "give digestion a break and help maximize absorption." Enzymes (Digest Gold is her preferred brand), essential oils (by doTERRA), and lemon juice and apple cider vinegar mixed into beverages are her go-tos for slimming down and staying calm.

"I probably don't drink enough water," says Adams, who took home Golden Globes for Big Eyes and American Hustle, "and I probably drink too much champagne because they serve it like water." You'd think booze might help ease stress, but many A-listers say the opposite. "I drink a lot less than I used to," says Satellite Award nominee Elizabeth Banks. "I'm a one-cocktail-a-night kind of person now. That's the only bummer of my life, honestly."

Golden Globe nominee Regina King's motto: "Drink as much water as possible, and keep the wine in moderation; wine is to relax, and the water is necessary." Twelve-time Emmy nominee Allison Janney has her own secret to staying hydrated: Cream Party, a blend of coconut water and coconut cream from Juice Served Here (multiple locations; JuiceServedHere.com). Abigail Breslin's weapon is antibiotic shots by Kreation Organic (multiple locations; KreationJuice.com): "They taste disgusting, but they really help."

"I'm really into my feet being comfortable at these events," says Landecker. "My first Golden Globes, I wore incredibly uncomfortable shoes … and we won. [Dancing] afterward, I was in so much pain." This year she prepped with pedicures, extra foot massages and four ibuprofen, plus "a pair of fancy shoes that a ballet dancer designed to be more comfortable."

A Golden Globe-nominated actress and an Emmy-nominated actress went the extra mile before their big nights, meeting with Dr. Ali Sadrieh of Evo Advanced Foot Surgery in Studio City (EvoFoot.com), creator of the Loub Job surgery — named after Christian Louboutin shoes, the procedure removes bunions and lengthens or shortens toes.

Both nominees had Botox injections in their feet, which helps with pain management and blisters, and reduces sweating. "It's not glamorous but can be beneficial when you are nervous and your feet sweat," says Sadrieh, "potentially ruining shoes or making them slippery."

Courtesy of Subject

Adaptogenic herbs are "the most important group," says Amanda Chantal Bacon, founder of Moon Juice (multiple locations; MoonJuiceShop.com), which counts Paltrow and best supporting actress nominee Rooney Mara as fans. "These adapt to your body's needs gently, without jitters or crashing." They also support the adrenal glands, which manage hormonal response to stress, anxiety and fatigue. Her picks for awards-season prep: pearl and schisandra berry, with anti-anxiety, sleep-encouraging ashwagandha. Then try some of the brand's Spirit Dust on the way to the show.

Padma Lakshmi, a star and producer of the oft-nominated Top Chef, gets once-a-week massages during the month leading up to the Emmys, then a lymphatic drainage massage the day before at Be Hive of Healing in Agoura Hills (BeHiveofHealing.com).

In February 2014, nominees Scarlett Johansson, Michael Douglas and Catherine Zeta-Jones all took time out of awards season to escape to Nicaragua's Mukul Beach, Golf & Spa and indulge in the wellness resort's six healing sanctuaries (MukulResort.com). Last season, massage parlor The Now — whose first outpost near CBS was joined by a Santa Monica location this summer (thenowmassage.com) — was a hub for contenders. Says co-owner Gara Post, "most of our clients in the industry request our signature massage," a Swedish-inspired rubdown called "The Now " (and loved by Emma Roberts and Lea Michele). And awards strategist Lisa Taback — who orchestrated successful campaigns for Spotlight, Room and Amy — receives rejuvenating home massages from Julie Mondin, whom she calls "the best-kept secret" in town (818-235-2068).

Many stars also add aromatherapy to their treatments. Meditation expert Olivia Rosewood — a former actress herself (Titanic, Almost Famous) — says you actually can develop a Pavlovian response to an essential oil like jasmine. "If you meditate with it on your hands every day, when you're in your high-stress moment, it can bring you feelings of deep peace, the scent transporting you right back to the meditation cushion."

Sex is one of the best de-stressors, says Walsh, "especially during awards season. Like working out, sex releases tons and tons of endorphins, helping with mood, sleep and overall well-being."

Mars refers clients to healer Howard Wills (HowardWills.com). "Johnny Depp, Orlando Bloom, Katy Perry and Julia Roberts go to him for his ability to heal without touching, just prayers." Celebrity psychic medium Thomas John says, "An Oscar nominee contacted me because she was assembling a team of spiritual experts to spend two weeks with her at a retreat to focus on clearing her energy, meditating and connecting with her guides. She felt that by opening her chakras and energy, she would 'manifest' a win." Apparently, it worked. He also helped a Golden Globe nominee contact his deceased mother because "it was her dream to see him win an award, but she died of cancer two years before he was nominated."

Courtesy of Subject

Modern Family's Sarah Hyland, Selena Gomez, Taye Diggs and LL Cool J are dedicated to the same method of releasing stress: sweating it out. "Even my off-time was scheduled," says Hyland of awards season, "so for relaxation I surrendered to a heavenly place called Shape House," a sweat lodge in Larchmont Village (ShapeHouse.com).

"For 55 minutes a day, I would climb into an infrared blanket and sweat my ass off while watching The Night Of." Founder Sophie Chiche says, "Physically, emotionally, psychologically, sleep-wise, skin-wise, everything is better. Someone walks in looking aged, distorted from stress, and go out looking 10 years younger. It's an exciting ROI." Plus, she says, come in the night before and you'll fit into your dress better.

Vitamins were part of Ray Donovan nominee Jon Voight's plan for staying well over a crazy Emmys weekend. He has been taking a variety of them — including B, C, E and fish oil — for years, after seeing a Life article about Clint Eastwood. "I thought, 'He must know something,' " says Voight. Veep's Tony Hale, Emmy nominated the past four years, winning twice, relies on Wellness Formula from Whole Foods and colloidal silver to keep nourished. "It sounds really L.A., but it works," he says.

Dr. Nigma Talib, a London-based naturopathic doctor who's using the Spa at Four Seasons Beverly Hills as her home base during the Golden Globes, insists "most of Hollywood" has her Healthy Flora probiotics in their kitchens (Rosie Huntington-Whiteley Instagrammed hers, which fiance Jason Statham shares). "The grapeseed extract is amazing for gut health and the skin, so you're really doing an inside-out approach to wellness."

Courtesy of Subject

"I always use the same formula: a ton of physical activity and a big dose of perspective," says 2016 Golden Globe nominee Rob Lowe. Of course, this being L.A., yoga and Pilates are popular.

Exhale Santa Monica was the chosen studio of one Golden Globe and Independent Spirit best supporting actress nominee. Says instructor Chelsea Kruse, "When you are under stress your body naturally holds on to tension. Yoga is a great way to release that while improving your flexibility, strengthening your body and calming your mind. It will also help improve your sleep. You are able to shift your attention from the issues causing your stress and anxiety, and be in the moment," she adds.

Oscar nominee Lady Gaga likes SoulCycle, as do Emmy contenders Amy Schumer and Jesse Tyler Ferguson. And you don't have to leave your house to pedal out the angst: Janney, who has won seven Emmys (for Mom, The West Wing and Masters of Sex), streams workouts to her hi-tech Peloton bike (PelotonCycle.com). Just don't overdo it. Rise Nation founder Walsh (Rise-Nation.com) says when someone is in awards mode, they shouldn't be adding more workouts: "It isn't the stress of 'if I'm going to win,' it's the amount of press, traveling and campaigning, so you want to make sure these guys don't get sick."

Rosewood — who founded the online meditation hub The Portable Sanctuary (OliviaRosewood.com) — has worked with the head of a major network and a media mogul, each with many nominations. "These are type-A personalities who don't see losing as an option," she says. "With this comes the fear of failure, fear of embarrassment, even winner's guilt." All of these generate a great deal of anxiety, she says, which necessitates daily meditation, beginning far in advance.

Her clients each get a bespoke combination of mantra practice, mindfulness, visualization, Taoism, Zen, moving meditations (Tai Chi and Qi Gong), breathwork, Reiki and yogic meditation. Then, "the crucial next step is helping my nominees home in on their life purpose — keeping that close at hand helps to broaden, anchor and balance their perspective." Brentwood's Unplug is home to the ohm for assorted Oscar- and Golden Globe-nominated producers and directors (along with regulars Perry, Jennifer Grey and Marcia Cross). Circuit vets Emma Watson, Jared Leto and Paltrow use meditation apps, as does Janney. "I do get overwhelmed by all this," says Janney, "so I use the Insight Timer app for guided meditation."

Circuit vets Emma Watson, Jared Leto and Paltrow, meanwhile, turn to the customizable Headspace phone app. Says co-founder Andy Puddicombe, "Choosing from themes such as sleep, anxiety, depression, doubt, relationships, performance and so on ensures they get help with the specific type of stress they're experiencing at that time." Rosewood suggests meditating with a crystal at home, then carrying it in one's pocket, bra or handbag to the awards ceremony: "Sometimes just the touch of a peace-charged crystal can bring calm." Then again, everyone has a unique personal crutch. For SAG Award nominee Isla Fisher? Just "caffeine and Spanx."

Deepak Chopra's 5 Tips to Find Peace

Stamina, energy, feeling glamorous — all of that comes from a body that's rested, a mind that is not distracted and a heart that is in a place of love and joy," says Deepak Chopra, 69, the town's godfather of groundedness, who spoke to THR about coping with awards-season stress.

1. Get a good sleep, every night.

2. Manage stress through meditation.

3. No matter what, walk 10,000 steps a day (but preferably also take a yoga class).

4. Focus on love and joy.

5. Eat carefully. Don't overeat, don't under-eat and don't eat anything that's manufactured, processed, refined or contaminated. Lots of vegetables, lots of fruit.

And one more: For those who have put in the grueling hours yet are walking away sans statuette, Deepak offers this mantra: " 'Pursue excellence; ignore success.' If you pursue excellence, success will be a by-product. If you pursue success for the sake of success, you will be disappointed." — Alene Dawson

Check out the full article here: http://www.hollywoodreporter.com/lists/sweat-lodges-zen-meditation-an-a-z-survival-guide-awards-season-stress-949237/item/breathwork-a-z-survival-guide-949212