BREATHWORK TEACHER TRAINING: How to Lead Couples and Groups
---
---
Certain people see teaching Breathwork as a calling. I have held sold-out classes all over Los Angeles, and in those classes, most attendees have a powerful experience. After a Breathwork class, there are always people who come up to me and ask, "How can I learn to teach this?"
In their personal Breathwork session, they feel called to do this work. I know how this sounds – like some hippie, New Age talk, but if you've taken my class, you know that's not my style. I never thought I would be doing this work, yet here I am. In my life, the results of Breathwork are undeniable
---
---
Tags:
biodynamic breathwork
,
Breath work
,
Breathwork
,
breathwork benefits
,
breathwork courses
,
Breathwork Facilitator Training
,
breathwork for trauma
,
breathwork near me
,
Breathwork Teacher Training
,
breathwork techniques
,
breathwork therapy
,
Breathwork Training
,
clarity breathwork
,
conscious connected breathing
,
holotropic
,
meditation techniques
,
rebirthing breathwork
,
shamanic breathwork
,
transformational breathing
,
what is breathwork?
Breathwork Teacher Training
"How to Lead Couples & Groups in Breathwork"
(Dates in the drop-down menu above)
Should I become a Breathwork Teacher?
Certain people see teaching Breathwork as a calling. I have held sold-out classes all over the country, and in those classes, most attendees have a powerful experience. After a Breathwork class, there are always people who come up to me and ask, "How can I learn to teach this?"
In their personal Breathwork session, they feel called to do this work. I know how this sounds – like some hippie, New Age talk, but if you've taken my class, you know that's not my style. I never thought I would be doing this work, yet here I am.
In my life, the results of Breathwork are undeniable.
What is Breathwork?
Breathwork is an active meditation that, I like to say, is great for people who can't meditate—which is most people.
I've poured a lot of time and energy into creating something special, something that will help people not only transform their lives, but will also show them how to help transform other peoples' lives in the process.
If you are ready for a life-changing experience, I am excited to be your guide. I will share with you what I learned from some of the best teachers in the world, as well as what I know from my own experience teaching hundreds of sold-out classes.
Each of my Breathwork Teacher Trainings is an intimate experience, which ensures a deep, powerful connection and a supportive learning environment.
I feel amazing after I take someone through a Breathwork Session. When I lead a class, I like I am on another level and am connected to my highest self … my best self. You will feel the same.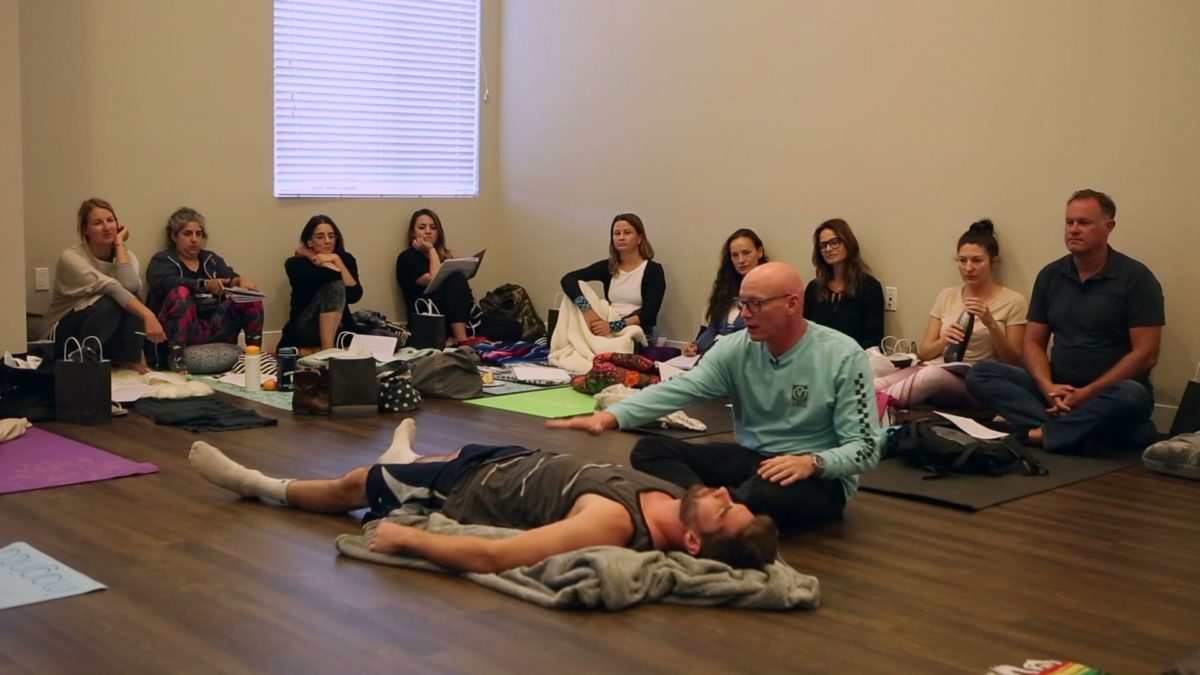 What will I learn in Breathwork Teacher Training?
In this two-day intensive Breathwork Teacher Training, you will learn how to:
Guide a Couples Session and watch a relationship transform in front of your eyes.

Find out what tetany is (Lobster claws) and how to prevent it from happening to your students.

You will gain confidence in your ability to explain the Breathwork Technique to a group.

You will learn how to answer the questions people have before and after a Breathwork session.

We will discuss how to deal with certain challenges that can come up when you have a group of people who are all clearing different traumas at the same time.

You will find your voice as a Teacher and use your own story and experiences to inspire others to do the work and show up for themselves.

Comfort, calm, and hold space for students having an emotional breakthrough while still guiding the rest of the class.
We will do exercises that focus on your personal transformation. A lot of the exercises will help you clear anything that blocks you from being your authentic self and will also help you operate from a place of trust and true confidence. These exercises will help you grow and transform, and as a result of your personal transformation, you will then be able to help and lead others.
Will I receive a Breathwork Teacher Certification?
Certification – I offer a Breathwork Certification if you take both of my Courses "Basics & One-on-One" and "How to Lead Couples and Groups" (They can be done in either order)
NOTE: You can also do one training in-person and the other one online and receive a certification that way. (There is an additional charge for mailing the certification)
Why you don't need to study Breathwork for years or do six-hundred hours of training that include thirty Modules with never-ending payments.
I've had people actually come to my class and then go and start their own class copying my class exactly and had success. While I do not recommend this for a number of reasons it also belabors the point that you don't need years of training to get started.
Many of the Breathwork teachers out there want you to study forever, do a bunch of levels that cost a ton of money. Then they also want to control how and what you do and even take a cut of your earnings.
I believe it's important for future teachers to do a lot of Breathwork on their own (daily being the best and fastest way to transform your own life so you can help others more easily). Having your own personal transformation through this work is the most powerful way to show that you are practicing what you preach.
What you'll learn in my trainings is the important essentials and things to watch out for that are problematic in sessions and classes. That's why I offer only two, two-day training programs to get a certification. My two training weekends are actually the fastest route to certification in the Breathwork community and actually send you off prepared to lead a session or class.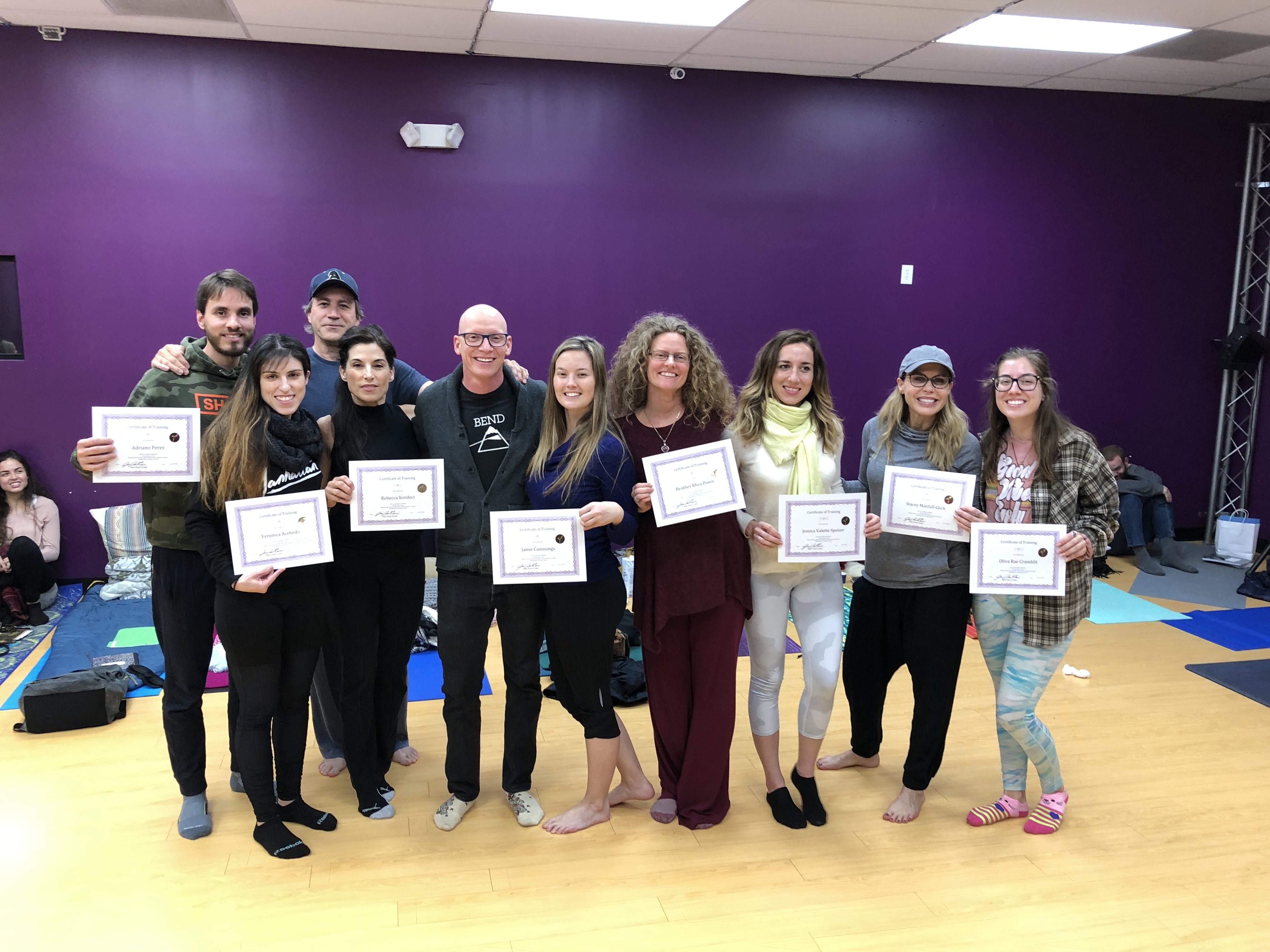 Things you and your clients may experience as a result of practicing Breathwork:
Deep healing of wounds, grief and traumas
Release undigested emotions and memories
Release toxins from the cells of the body
Generate greater self-love and more loving relationships
Lead to Emotional Balance
Feel overwhelming joy
Discover the ability to manifest greater abundance
Feel relief from physical pain
Find deep, inner peace
Feel massive stress relief and deep relaxation
Feel increased connection to source
Transcend the mind and emotions and support an internal awakening
Break free of old patterns and behaviors
Quiet the internal critic
Feel a massive connection to creativity and confidence
Access expanded states of consciousness, including higher guidance and clarity
Details on what to bring and  how to sign up:
A pen, notebook, and water will be provided as well as light snacks will be provided at the morning break, and you'll have a one-hour lunch break each day. We are located near many restaurants, or you can bring a lunch and eat at the venue if you prefer.
A cushion or Backjack is also recommended, as well as a yoga mat and blanket.
Hours: 9:00 a.m. – 5:30 p.m. (Includes a morning break and one hour lunch)
Total Cost for this Course – $640 per person. (Total Cost)
A deposit of $340 (non-refundable, nontransferable) deposit required to reserve a spot. Space is limited.  The remaining balance of $300 due the Wednesday before the training.
LOCATION: March – The Hilton Hotel – Pasadena 168 S Los Robles Ave, Pasadena, CA 91101 Phone: (626) 577-1000
Here is a link to special room rate (Note: you may be able to get a cheaper price on external website such as booking.com)
Discount LINK

July and November Teacher Training Location has not been set yet. If traveling from outside Los Angeles we suggest booking a flight into LAX airport. 
Most people fly into LAX airport, so please plan accordingly coming and going. Please don't be late and don't ask to leave the training early.
In these trainings, space will be limited so it's suggested that you reserve your space as soon as possible — as all the previous Teacher Trainings have SOLD OUT.
For any questions or concerns, email at: breathewithjp@gmail.com
| Parameter | Value |
| --- | --- |
| Cost | Full ($640), Deposit($340), Balance($300), Repeating($330) |